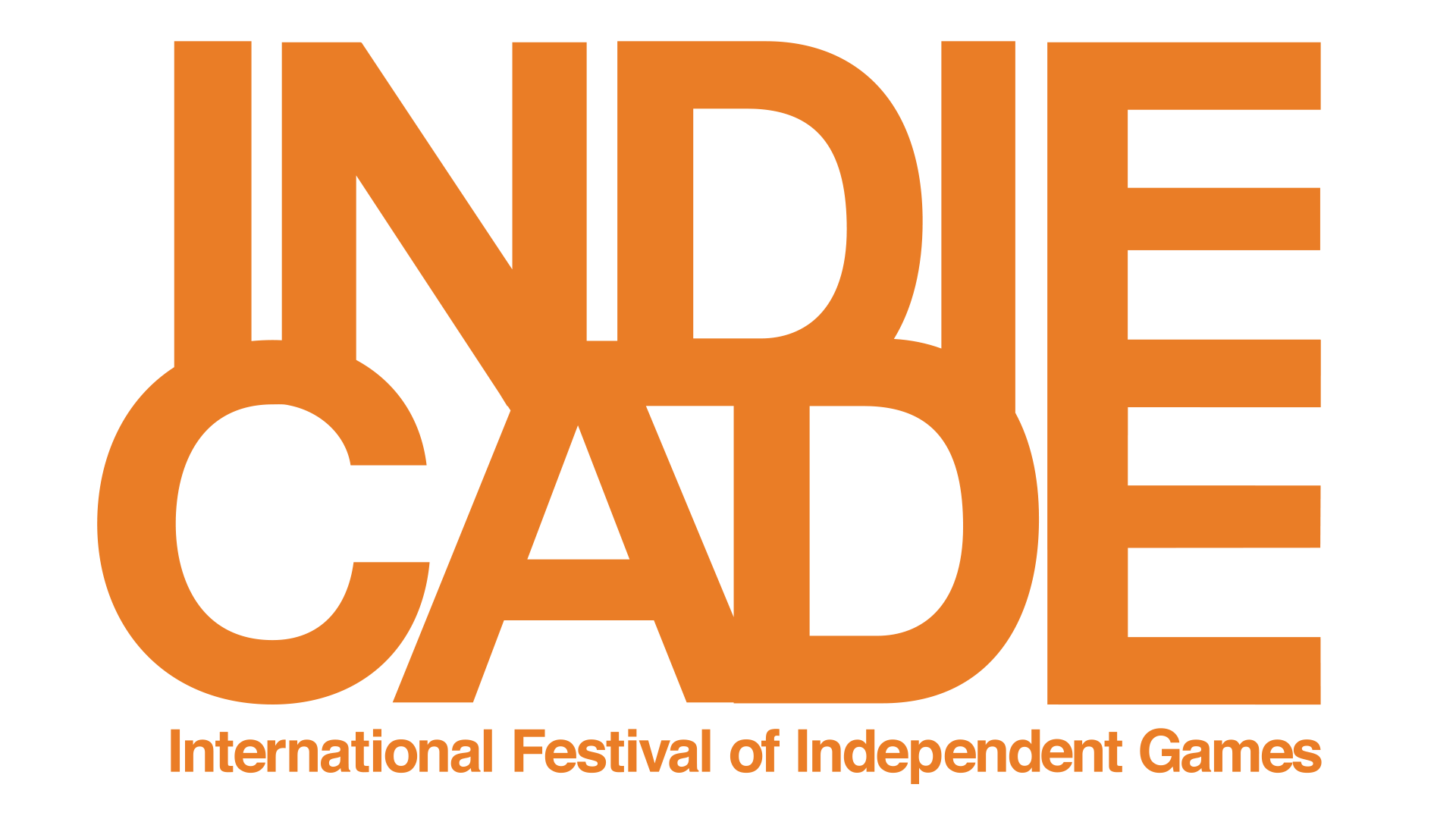 Here is the promised post-a detailed look at how my time at IndieCade went. I'll discuss what I did in great detail as well as outline my objectives and see if I managed to achieve them. Obligatory warning, it's 1700+ words, so make sure to read this while your code compiles or some similar long-winded process.
---
Objectives
I had three things I wanted to do while at IndieCade:
Meet as many game developers as possible.
Play as many games as possible.
Have as much fun as possible.
These may seem like somewhat trivial objectives, but to someone who has just started down the indie road, these objectives are all very important. They would essentially guide me during IndieCade, and if I couldn't accomplish them, then it begs the question, would I be happy being an indie game developer now? After all, to make it in the indie world, you have to immerse yourself in it.
Day 1
I got off the bus at 8:55 am and made my way to the production tent where all the volunteers checked in. Technically, my shift started at 9:30 am, but I was too excited to wait till then. I was greeted by Aretha Soderstrom, the volunteer coordinator. She was extremeley nice to work with; she helped me get situated with the layout of the festival, specifically where my volunteer shifts were, and even gave me great advice about where to get a nice lunch in the area (I had a break between 2 and 3 pm, so lunch needed to be quick). She handed me my shirt and my badge, and I was off to my first shift!
The Nintendo Tent
Which for some reason, didn't start until 12:00 pm. However, this worked out perfectly for me, since I could now go ahead and wander the site in the morning, before the crowds hit. Now, with objectives in mind, I made my way to the Nintendo tent. I'll save the small reviews of these games for later posts, but I played Shovel Knight, SportsBall, Runbow, Chariot, and Costume Quest 2. They were all very neat games, and getting to speak to some of the developers, like Auston Montville, the developer of Sportsball, and Philippe Dion, creator of Chariot, about the development process of the games, such as how the idea started, or what inspired a certain art style, was invaluable as a new developer looking to make the scene. I felt that simply being able to connect on a dev to dev level made the conversations much deeper. In fact, if you recall this picture from my previous post: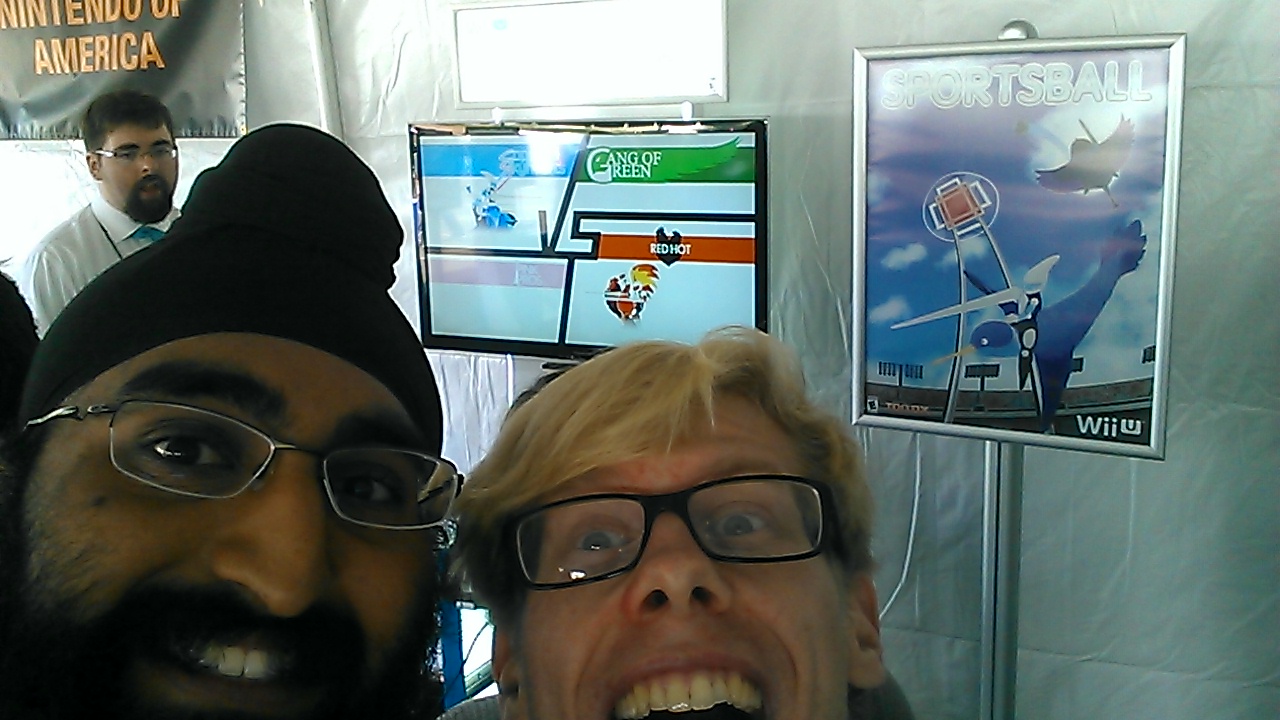 it was Auston on my left. Funny and extremely passionate, Auston is the kind of developer I want to be. I'm glad I got the opportunity to meet him and play Sportsball, which I'll talk about more in a later post. If you get the chance, do talk to Auston-his enthusiasm will rub off on you, empowering you to make your own games too. I guarantee it.
Plus, after all this, I got a cool Legend of Zelda t-shirt!
The PlayStation Booth
Next stop was the PlayStation booth! Here, I played a good number of games, like Starwhal: Just the Tip and Assualt Android Cactus.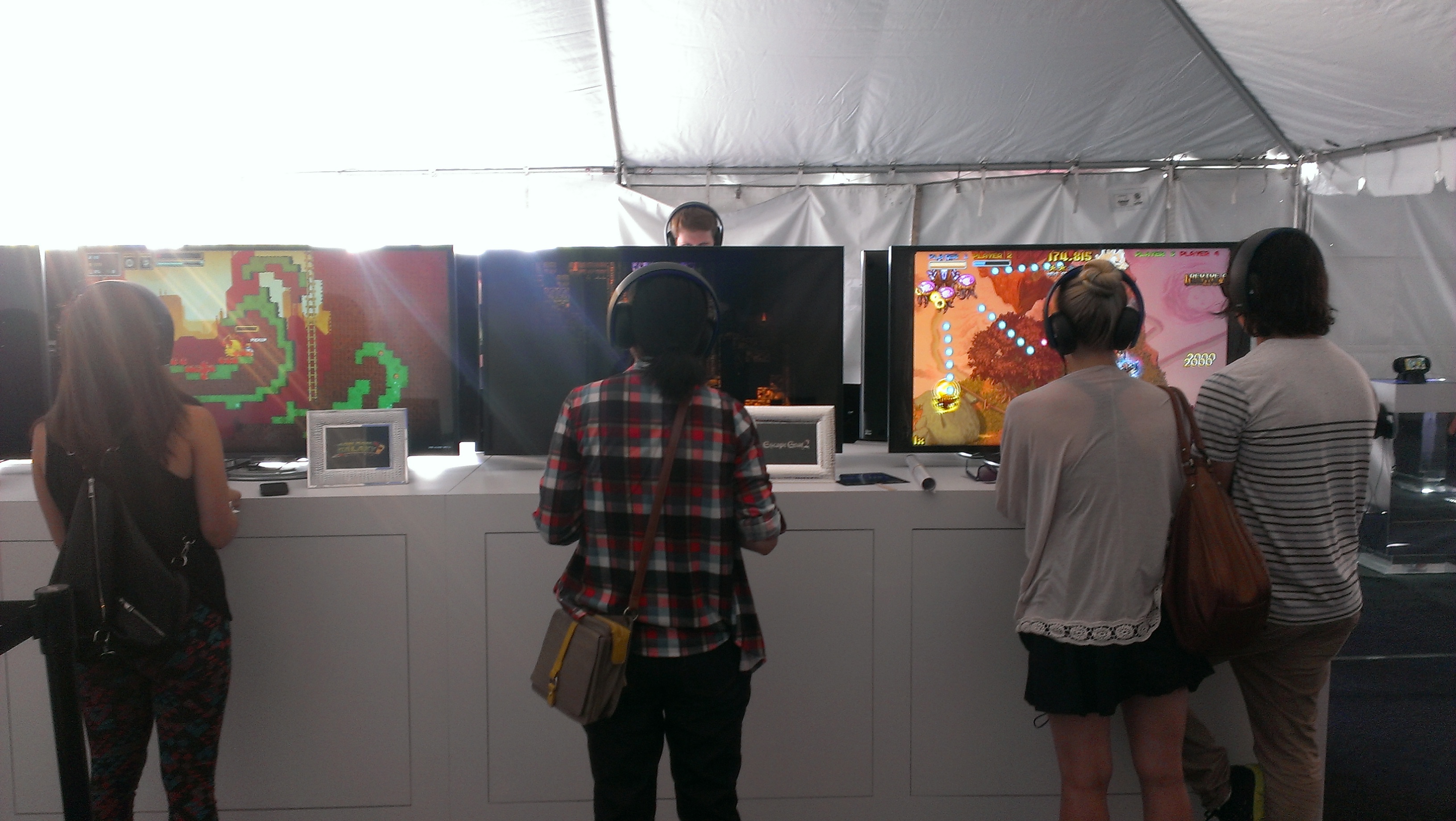 Some people playing games at the PlayStation booth.
Those two were fun, and both this tent and the Ninentdo one taught me something. A lot of people say that local multiplayer and co-op games are dying out, but by the looks of it, the genre is thriving. The indie developer community is breathing life into this sector, and I see no bleak future for local multiplayer and co-op games as long as the indie community keeps this up. I also have two brothers and a PS4, so I learned which games were good for me to pick up so we could play later :) .
Oculus
I got the chance to try out the Oculus as well. I would tell you how the experience went, but I had to take off my glasses to put it on, so I was pretty much watching blurry blobs as I listened. So note to self (and potentially others too), next time I'm at events like this, wear contacts!
Table Games
Finally, the time neared 11:50 am, so I hopped on over to the table games, where my shift was, for the next two hours. Just to understand why I didn't need to work before this, here is what the section looked like for most of the morning: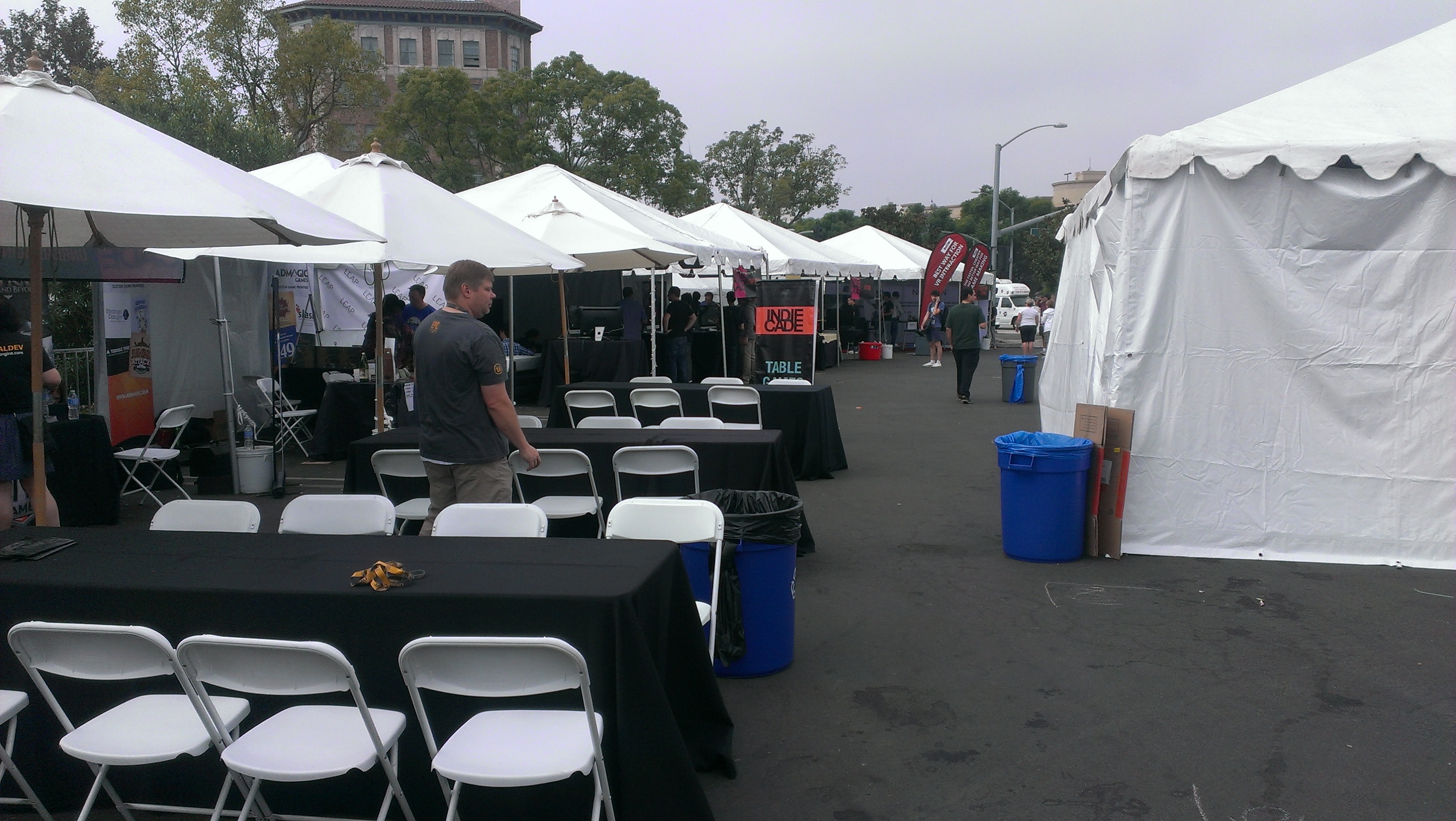 A nice, empty table games section on Saturday morning.
But now, the developers started strolling in. Some of my teammates had already started learning a card game called Hanabi. I talked to the next developers, Tommer Braff and Edward Stevenson of Giant Shoulder Productions and learned about their game, Circular Reasoning. Again, my experience playing these games will be discussed in a later post, but I'll say this: it requires thinking ahead a good amount, and it kept me on my feet, as well as left me wanting more when I lost in 2nd even though I was one move away from taking the game (well, there are technically no positions, but if I had gone first instead of second that round, I would have won). In other words, it's a superb game.
Table Games in action.
The next games I played were Lucca, HeiferHeist, and Wanted: Igor!. These games were quite fun, and a step away from the traditional games I've played. Heifer Heist's art was adorable, and Wanted: Igor was a great, scheming game (I won that one in a flashy and glorious comeback).
That sums up my first shift at Table Games. It was loads of fun. In fact, more fun than I expected to have from board games.
Break
I had a one hour-break from 2-3 pm, during which I had two things to do: make a call, and eat lunch.
The call was to an unkown person. Well, we knew each other on Reddit, but other then that, I knew nothing, which was awesome. I met up with the guy and a couple of his friends, and we talked about who we were, what we had done so far at the festival, and then parted ways. It was like the Reddit meetups you hear of, but never see (except on a much smaller scale). It suffices to say, I was happy. I met another developer like me, trying to make the scene while having a good time.
The second ordeal was lunch, which, thanks to Aretha, was a cinch. I went to a little bakery/sitdown place called "Grand Casino". It was merely a minute away from IndieCade, so I was able to grab a filling bite and head back before my next shift. Thanks again, Aretha!
Firestation
My next shift was at the Firestation, where all the nominated games were on display. I wasn't sure what to expect from these games, and I didn't do any previous research, because that would simply bias me towards one game or another. The volunteer coordinator merely told me to once again, get familiar with the games so I could fill in for the developers while they were out. And so, the rest of my day was spent playing games and helping devs out with their audiences-what fun!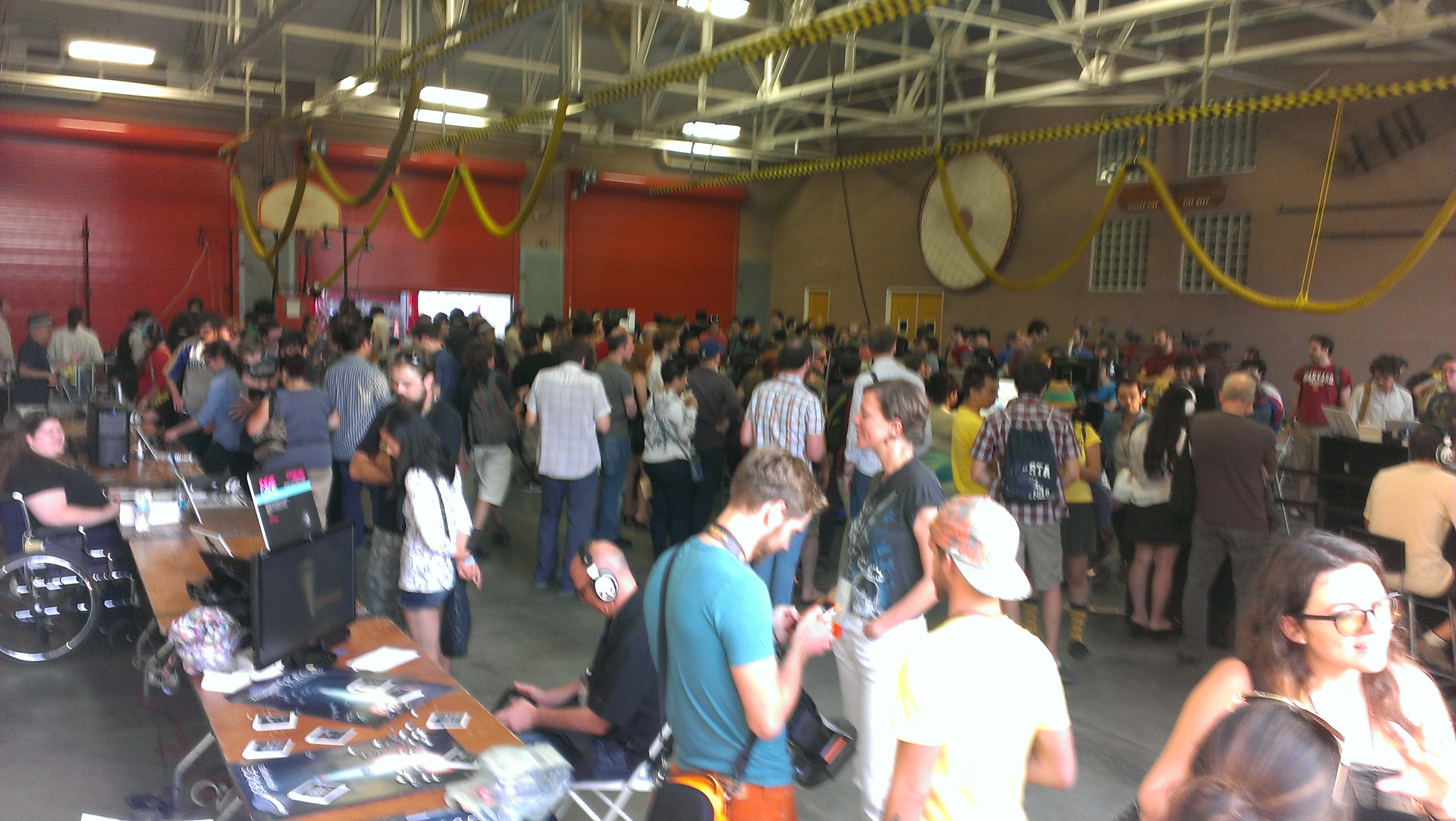 The Firestation, packed. Excuse the blurriness.
Just to name a few of the games I played: N++, iO, Framed, and Choice Chamber. I actually talked at length with Roy Bijsterveldt, the developer for iO, about the tricky physics in his game, filled in for Joshua Boggs, one of the developers for Framed, and learned that N++ was developed by two brothers, much like our team right now (well, three brothers, but you get the gist). I actually was with Roy when some Nintendo sponors were talking about bringing his game on their platform (best of luck with that Roy!). Filling in for Josh was another priceless experience (thanks Josh!). I'd explain in detail about the game, let the audience play the game, and then would be asked "So did you make this game?" or even better, some really techincal question. Of course, after this question, the jig was up; I'd explain that I'm not the developer, and that when the developer returns, I'd be sure to ask him. But, to not miss a beat, I told them that while right now I'm a volunteer, someday I will be standing there as a nominee. After all, why not?
Day 2
Firestation
I nipped over to the productions tent at 9 am, on Sunday morning, bid Aretha and the rest of the team a good morning, and made my way over to the Firestation. This time, I was in an empty room full of machines--nothing like yesterday's experience.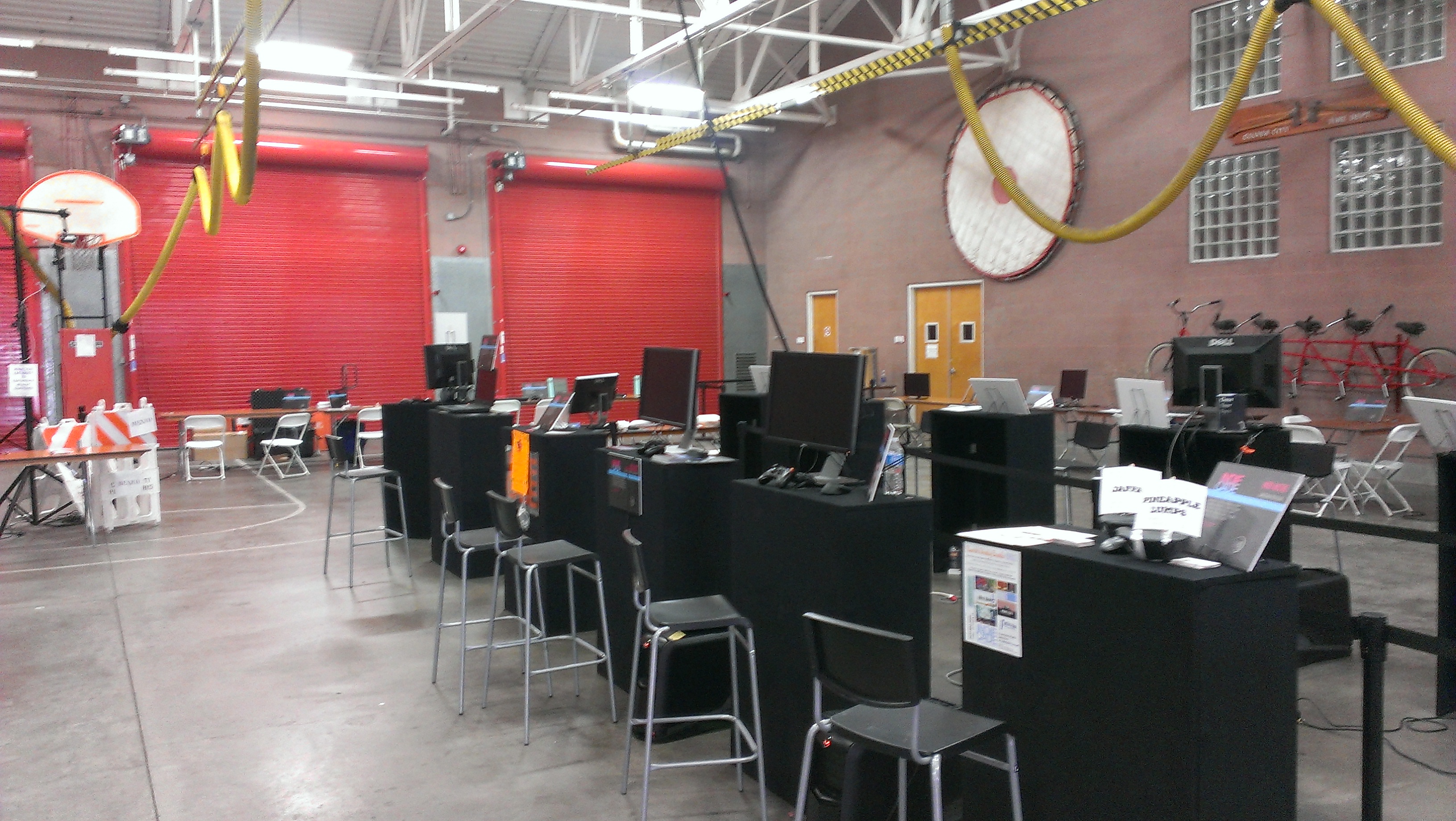 Peace and quiet.
The devs stared showing up about 20 minutes before 10 am, and after 10, the show was once again on the road. I chatted with Roy for a bit, and he told me that it wasn't as busy as it was yesterday, most likely because today was the last day of the festival. Still, I played some new games, including Henka Twist Caper, Soulfill,Close Castles,Mini Metro, and Lyne.
Unfortunately, a college student has something called homework to do, and my Sunday afternoon was the dedicated block of time for that. Thus, after my shift eneded, I said farewell to all my new acquintances, and we parted ways.
For now, of course. Because if I've learned anything from what I've read and done so far, it's that making contacts and making the effort to keep them is the name of the game.
---
Wrap Up
A successful event? I think so. In fact, my wallet couldn't hold any more business cards.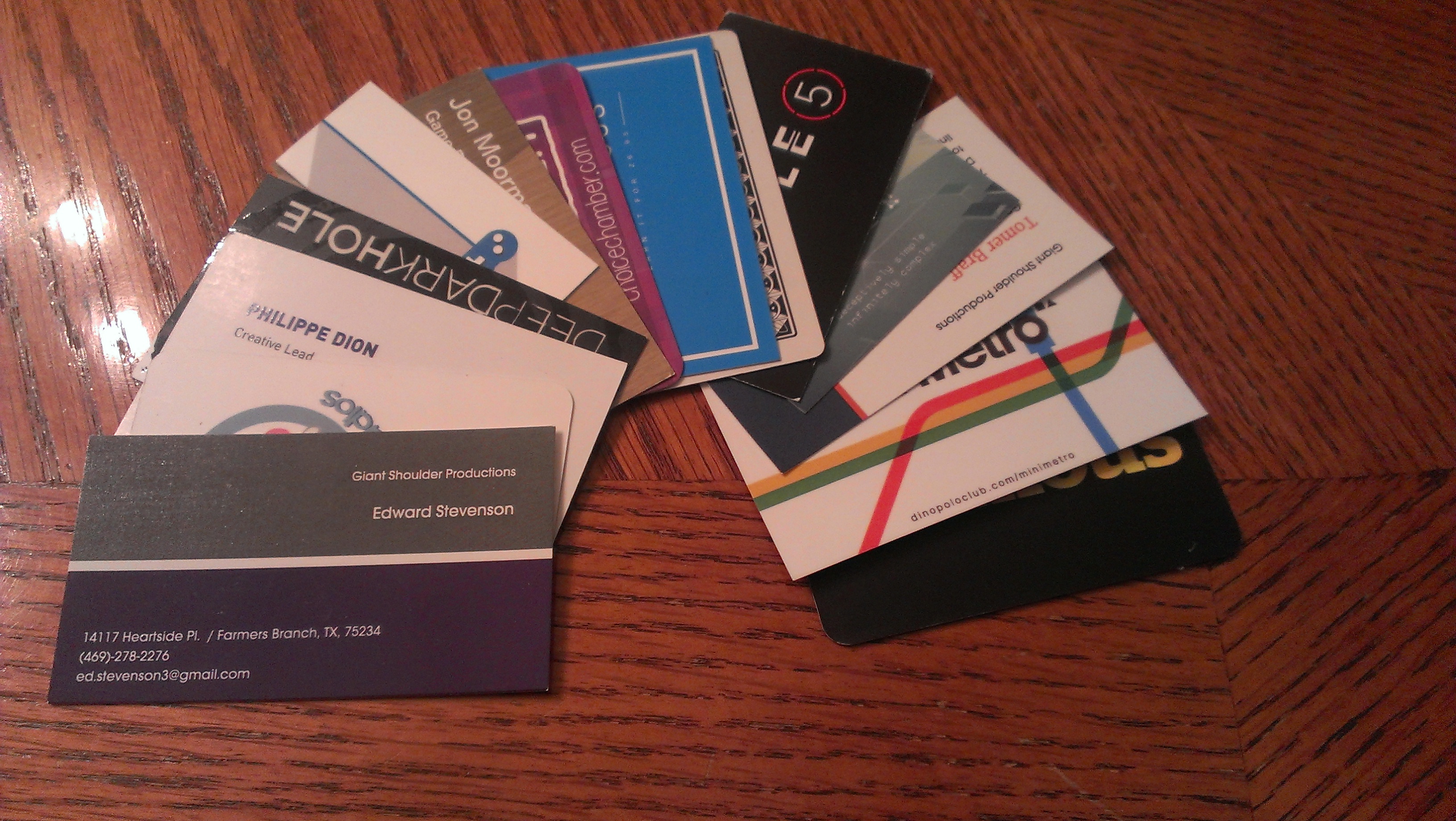 Says I've talked to people, right? Good enough for me.
A business card count may be a little shallow, but I assure you behind each of those cards is a heatlhy conversation between developers.
Now, if you couldn't tell by the tone of this post, then let me tell you right now-IndieCade 2014 was a blast! I accomplished all three of my objectives. In fact, I feel more connected to the community now than ever before. Sure, we follwed the right guys on twitter, we're part of the /r/gamedev subreddit community, and we've released our own title. But being in the mix of all these other developers and gamers, with everyone on equal footing, gave me confidence and some deeper level of happiness. And I'm glad I found that, because now I'm sure I can make headway in the indie scene, especially with persistence and the knowledge that there were others like me at the event, except standing there demoing their games, and not simply volunteering. But I'm satisfied with starting at the bottom, and working my way to the top, because I know that most of them did the same.